A playschool is not a creche. Here's how to pick the right one
Learn about the environment, the infrastructure, the fees, and the health, safety and hygiene measures when you visit a playschool.
By Sugandh Jolly
Congratulations on completing the Stage 1 of your journey towards parenthood. Your child is now ready to explore the outdoor environments and imbibe social skills. You have done a great job raising your new baby and you should be proud of yourself! You and your baby are now ready to embark on a more responsible journey. And, this is not going to be any less challenging than the first year of parenthood. Your decisions are not just going to be about how your baby must be dressed up and what food he must eat. You are going to be making life-changing decisions for your child. This is one of the most critical moments in a parent's life. I understand this must have added many more sleepless nights for you.
My husband and I were at the same juncture in our lives, skimming through the list of play schools to zero down on the best one for our first child. Though we could not find one and ended up founding an early learning centre for our daughter, we learnt a lot during our research days. The entire exercise of reading parenting magazines and online articles for new methods and practices in teaching and learning and matching them with our daughter's interest areas and the qualities we wanted her to inculcate was a stressful task. We wanted our child to be empathetic, competitive and smart. We knew we did not want her to go and learn how to hold a pencil correctly, we wanted her to explore her surroundings and to learn by her experience. While our journey was long and taxing until it was rewarding, I would like to help you make your journey objectively-driven (because that is important!) and short.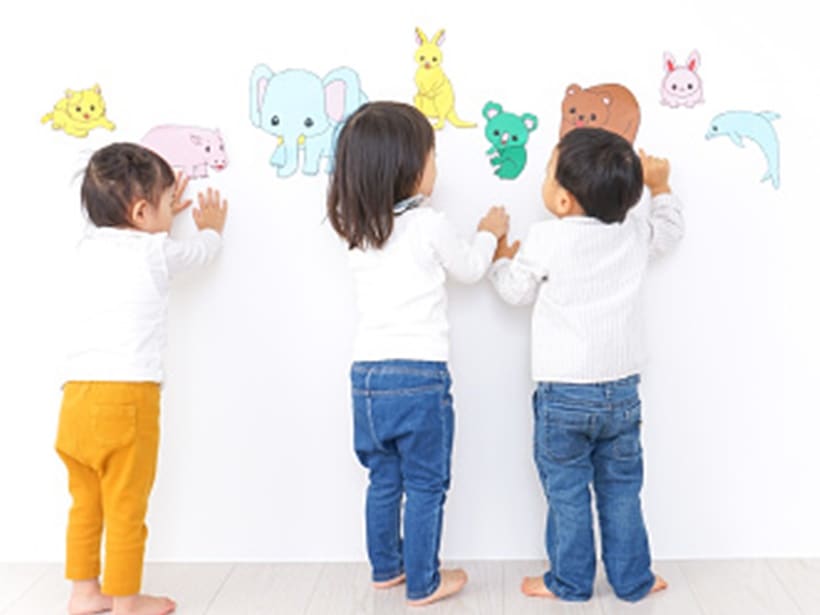 No, a playschool is not a creche!
We must unlearn this idea. A playschool does not serve only as a place where you can leave your child to play with other children. A playschool with a babysitter watching over your child making sure he/she is tended to when they miss you or hurts themselves on the swing is not the ideal playschool. It is definitely not a place where you can 'leave your child' while you plan on conquering the other elements in your life. The fundamental objective of a good playschool is to prepare your child for the actual school and to help them grow. Thus, play with no intent or objective towards your child's development and growth doesn't make for your child's future. You must look for playschools which strongly believe in learning through play.
Also Read: Is your child ready for playschool?
A playschool with a philosophy or a playschool with a mediocre voice?
A playschool with an ideology and philosophy that you agree with should be on your list. A playschool could be following the ideas of Jean Piaget, Rudolf Steiner, Maria Montessori or any international play-based teaching. What is important is that the ideology should be something that aligns with your thought process. If a playschool follows a certain philosophy, it means that they know their responsibility and have got their teaching methodology and curriculum in place.
What is important to you, character building or subject learning?
Would you like your child to be a good person or a good student? What is important to you? Sometimes, even though we know, we want our child to grow up into an independent and responsible adult, we cloud our minds with the noise that mostly comes from the space that exists outside our homes. A child doesn't necessarily need to be a high scorer in his school, what matters is if a child has an understanding of how to respond if dragged into challenging and competitive situations. Once you declutter your mind off the older notions and traditional thoughts, you know what is good for your child and can move on to answering the next question for yourself.
The playground and its size
It is natural for a playschool to have a play area, but how big is this area? How is the activity area designed? Is there enough space for your child's free movement to develop motor skills? The school must have plenty of activities and toys for children along with an access to the outdoor environment. Messy play and working in the organic garden and with their surroundings should be a part of the methodology.
If you know what your child deserves, make a list and schedule a school tour!
Since I am going to base everything as per my experience and learning, I feel it is important to let you know that we all have the same set of struggles. We, too, attended a number of interviews and school tours as we just did not want to settle with anything less for our daughter. And, you mustn't too! It is not wrong to be unsatisfied and to demand more. All children deserve what they deserve and if you think your child deserves more than what is available, you must create a checklist. Learn about the environment, the infrastructure, the fees, and the health, safety and hygiene measures when you visit a playschool. Observe all the children and how they are cared for. Talk to the director and the teachers, see if your ideas and thoughts match. Go through their credentials. This is crucial. When confident, take your child along with you on the next visit.
Lastly, I would like to tell that you will know when you have entered the right playschool and that you can trust them for your child's development and learning. Your instincts will guide you in making the right call but before you meet the right playschool, you must learn your parenting lessons.
(The writer is Co-Founder, ELV & Wonderland.)
Source: Read Full Article