Wellness not addiction: women embrace positive approach to alcohol moderation
A desire for wellness, rather than angst about addiction, is prompting women in their 30s and 40s to cut back on their drinking using apps like Hello Sunday Morning's Daybreak.
Hello Sunday Morning, a not-for-profit organisation that started as one man and his blog 10 years ago, has helped more than 160,000 people deal with high-risk drinking since its inception.
Hello Sunday Morning launched the Daybreak app – which provides peer support, counselling and cognitive behaviour therapy resources – almost three years ago. More than seven out of 10 new members who registered on Daybreak in the year to June 2019 were women, while 60 per cent were aged in their 30s or 40s, according to figures supplied by the organisation.
Alcohol and Drug Foundation spokesperson Melinda Lucas said men dominated traditional treatment services aimed at people with a severe dependence on alcohol, but she was not surprised by Daybreak's female skew because it was more in the health and wellness space.
"Women are often more likely to go to their GP for issues, they're more likely to join a yoga class, they're more likely to think about health and wellbeing, and I suspect that is what is being reflected here," Ms Lucas said.
Hello Sunday Morning has a $3 million contract with the federal government to give free access to the Daybreak app to 20,000 Australians over three years. Hello Sunday Morning founder and chief executive Chris Raines said the organisation had already exceeded 16,000 Australian users after two years and is now talking to the government about extending the contract.
Television journalist Talitha Cummins, who popularised Hello Sunday Morning by sharing her own struggle with alcohol seven years ago and is now an ambassador for the program, said she was "in awe" of what Mr Raines had achieved.
"When I first started, it was Chris and his blog and four people operating in one office," Cummins said. "Now it has directors, they've just had clinical trials, they've got government funding, they've got great backing. It's really impressive to see the way it's grown."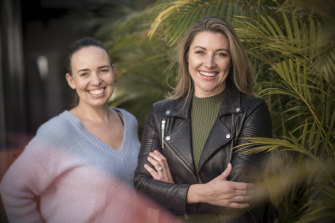 Jada Bennett-Cross (left) and Hello Sunday Morning ambassador Talitha Cummins.Credit:Wolter Peeters
The National Drug Strategy Household Survey 2016 suggests men are cutting back on alcohol, with falls in the proportion of men drinking daily or at least once a week between 2013 and 2016. There were no significant changes for women over the same timeframe, but Ms Lucas said she expected women's drinking rates would also fall in time as they engaged in programs like Hello Sunday Morning.
A number of studies have found high rates of risky drinking among middle-aged women and this is reflected in popular culture, with the popularity of "wine mum" memes online or baby clothing with slogans like "Mummy needs wine".
Traditional treatment ranges from a mental health plan for subsidised sessions with a psychologist to a residential program. Meanwhile, Daybreak is online and supportive of people who want to cut back as well as those who want to quit completely. Rather than the Alcoholics Anonymous adage of "one day at a time", many people doing Hello Sunday Morning pledge to abstain for several months to let them reassess the role of alcohol in their lives.
"It's really self defined so the person chooses their own adventure and we just sort of wrap around them whatever support they need," Mr Raines said.
When Cummins quit alcohol she used the Hello Sunday Morning forums – including in the middle of the night when she couldn't sleep – and also went to AA meetings and saw a psychologist. She believes Hello Sunday Morning plays a valuable role to "cater to people who just want to slow down the drinking a little bit" as well as those dealing with addiction.
Ms Lucas said women experienced more stigma than men for drinking and this was a barrier to accessing traditional services. By contrast, many participants find making a pledge on Hello Sunday Morning – or doing a challenge such as Dry July – is viewed as a positive lifestyle choice.
Jada Bennett-Cross, 42, from Ashbury in the inner west had no problem abstaining from alcohol when she was pregnant with her two children, now aged six and three, but was surprised by its prevalence after she stopped breastfeeding.
"I didn't expect I'd be binge drinking like I did when I was younger," she said. "I was orchestrating get-togethers around drinking – it might be four o'clock after school pick-up where all the mums got together to drink or kids' birthday parties being organised for afternoons rather than mornings [with alcohol for the adults]."
Too busy for traditional support, she downloaded Daybreak in 2017 and her initial pledge to take three months off drinking over Christmas soon became a decision to quit for good.
"Now I'm living in the moment and I notice all of those beautiful little moments with my kids, instead of thinking 'let's rush them off to bed so I can pour the wine'," she said.
Source: Read Full Article