Top Drug Official Wants New Approach to Abuse Crisis
When a chemical spill left 300,000 West Virginians in need of clean drinking water and a public official they could trust, Rahul Gupta, MD, MPH, was there. When the March of Dimes needed a voice to fight legislation that threatened to gut healthcare for pregnant women, Gupta was front and center.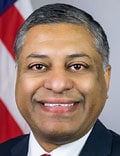 Dr Rahul Gupta, MD
As the federal government moves from military to medical metaphors in confronting a drug overdose epidemic that claims an American life every 5 minutes, Gupta finds himself again called to serve. With his bipartisan Senate confirmation last fall, the 51-year-old primary care specialist became the first physician to direct the White House Office of National Drug Control Policy (ONDCP).
He prefers to be addressed as "Dr Gupta" rather than the "drug czar," the nickname bestowed upon the position since the office was created in 1989. "The most noble profession remains being a physician," he said.
"A Good Look"
The choice of Gupta to run the office marks a definitive shift for an office that had been headed by criminologists, border control officials, and four-star generals in a long-running "war on drugs." Drug users, once viewed as criminals, are now considered patients, or at least ought to be. Gupta said he wants to attack untreated addiction, another problem he encountered frequently as a country doctor in the Mountain State.
The terms "war on drugs" and "drug czar" were "coined and representative of a time from which we've moved on," Gupta told Medscape Medical News recently. "They came at a time when we really didn't understand what ails people. We didn't understand addiction."
The "drug czar" moniker "doesn't particularly evoke a health frame," said Brian Hurley, MD, president-elect of the American Society of Addiction Medicine (ASAM). "To have somebody with a medical background who can really shepherd in an approach to prevent criminal interference would be a huge step forward."
"He has a good look," said Barry McCaffrey, a retired US Army general who had a decidedly different look when serving as "drug czar" in a Clinton administration that wanted to fight the drug problem primarily through law enforcement.
Gupta was born in the state of Uttar Pradesh, India. As a diplomat's son, his childhood was divided between there and Washington, DC. After finishing high school in India at the age of 16, he aced a highly competitive exam that enabled him to enter medical school. He earned his medical degree at age 21. (In India, high school graduates can take the med school exam at age 17.) "There was a period of time I had degrees but not the experience," he said.
Experience soon came. Gupta practiced and taught medicine in Alabama and Tennessee until March 2009, when he moved to West Virginia to take a position at the Kanawha-Charleston Health Department.
He became a household name ― in West Virginia, at least ― in 2014, when Freedom Industries illegally leaked thousands of gallons of toxic coal-cleaning chemicals into the Elk River, a major water source for Charleston. Then head of the department, Gupta petitioned state officials for help in regulating chemical containers, coordinated a response to the public health emergency, and fought to regain the trust of 300,000 residents who were suspicious of their drinking water.
The next year, Gupta became the state health officer for West Virginia, where many residents knew him as one of the few physicians around who still made house calls. Inside those homes in Appalachia, he saw the toll that legal drugs ― specifically opioids ― were taking. He saw a waning coal industry, where "people find themselves in middle age without skills." He saw tens of millions of painkillers "dropped into West Virginia in 6 years in a population of less than 2 million people," he said. "What else do you expect?"
West Virginia was ground zero for a drug overdose crisis. By 2020, its overdose death rate of 81.4 per 100,000 people led the nation, with second-place Kentucky reporting 49.2 deaths per 100,000. "The economic downturn because of the [declining] mining industry created a perfect storm of pain and addiction," said Sherri Young, DO, Gupta's successor as head of the Kanawha-Charleston Health Department.
The department responds to 200,000 overdoses a year, including cases involving people who have overdosed multiple times, Young said. Gupta identified trends, such as cases involving people who had overdosed on multiple drugs. "He worked with the state medical association to lobby for legislation to make it harder for overprescribing," Young said.
As the chief health officer in a state that historically ranks at or near the bottom in several health indices ― West Virginians have the highest rate of smoking, which is associated with heart attacks, strokes, cancers, and a slew of other medical problems ― Gupta made moves that would pave his path to the White House. He birthed West Virginia's Office of Drug Control Policy, which is based on the national model, and he led the state's rollout of its 2017 medical marijuana law.
Gupta wasn't immune to criticism during his nearly 4-year term. Advocates of a needle-exchange program in Charleston said he caved in to complaints about syringes in the streets and stood by passively when the exchange was shuttered.
Gupta said he was unhappy with the treatment services drug users were receiving along with clean needles, but critics said his defense of the program was weak and that the shutdown prompted an HIV outbreak from dirty needles. "A lot of that pushback was politically charged," Young said. "He advocated for treating the whole patient."
For all its health problems, West Virginia stood out for its increasing childhood immunization program under Gupta. That success caught the attention of the March of Dimes, a leading organization for maternal and baby health, which named him their health and medical officer in 2018.
Again, his experience as a country doctor stood him well. He saw that in West Virginia, there was a high incidence of cases in which babies were in withdrawal from drugs they had been exposed to in the womb. The rate of pregnant women with preexisting conditions was also high. He testified in favor of the Affordable Care Act, which was facing another budget axe in Congress, because the 2010 law enabled women, especially the working poor, to receive essential treatments during pregnancy.
Reducing Stigma
ONDCP has not yet released its drug control strategy for 2022. Gupta said one priority is to reduce overdose deaths, which numbered 104,000 in April 2021 ― a 28.5% increase over the previous year. President Biden addressed the epidemic in his March 1 State of the Union address, promising help for those suffering. Biden's recently submitted fiscal year 2023 budget calls for a $3.2 billion hike in funds for drug program agencies, to $42.5 billion. The biggest increases are patient-oriented: research, harm reduction, recovery support.
In the proposed budget is a plan to change the name of the National Institute on Drug Abuse to the National Institute on Drugs and Addiction, a move Gupta welcomes. "Stigma around addiction often prevents people from getting the help they need. It's a barrier to treatment," he told Medscape Medical News. "The president's budget, which removes stigmatizing language from an agency's name, is an important step."
Gupta said he plans to take a holistic approach, both with patients and with society, to cut down on drug overdoses. "We have to work across sectors," he said. "It involves education, it involves labor, as well as law enforcement. There is a role to be played by the health sector."
Playing a "Weak Hand"?
McCaffrey said the Obama administration weakened ONDCP by demoting it from a Cabinet-level position.
"I think the good doctor has been issued a weak hand," he said. "To not have the drug policy director in the Cabinet makes you wonder what the guy's job is." The fact that Gupta is the first doctor is beneficial and "makes a difference to me," McCaffrey said, "but the drug policy's director in Washington ― the skill set needed ― is: Do you have the political leverage to create budgets and articulate a national strategy?"
Gupta said he's not worried about a lack of clout with an increased budget and "control over 18 federal agencies."
He declined to say firmly if he favors legalizing marijuana nationwide. Gupta supports the medical use of marijuana and has helped patients who have entered long-term rehabilitation. But "I have also seen the impact of racial disparities in our criminal justice system," he added. It's time to move forward with a national discussion, but it must be "evidence-based and data-driven. We have to go where the science takes us."
And as he did with the March of Dimes, Gupta said he plans to push for equity in access to treatment programs. That means equal access for people of color and people from rural areas. "I would say, 'Well, I can prescribe you something, or you can go to treatment 80 miles away,' " he said. He wants to remove the "legal and cost barriers."
COVID-19 "exacerbated" the drug problem, Gupta said. "Obviously the pandemic has left a lot of people in isolation," he said. "We did have a shutdown. We did have challenges that interrupted the drug supply." He has visited several schools in his brief tenure, hearing students' mental health challenges, and wants to strengthen youth prevention programs.
Gupta and his wife, Seema, a physician at the Department of Veterans Affairs, go running most mornings. They have 24-year-old identical twin sons, who are pursuing advanced degrees at Harvard, one in medicine, the other in law. "Having been raised at the epicenter of the crisis in West Virginia, they both understand the challenges very well and often provide their input," Gupta said. "When days are really tough, they both inspire me and give me hope for the future of this nation."
Hurley, of the ASAM, said he's been encouraged by conversations with government officials about treatment-first, enforcement-second policies for treating addiction and is optimistic about Gupta as ONDCP director. "We've got a fair amount of distance ahead of us before there is widespread social understanding and acceptance," he said.
"There has been a major shift in the way we look at drug policy across the nation," Gupta said. "It's not fair to walk away from the opportunity to save lives. I've attended way too many funerals in West Virginia."
John Dillon is a freelance journalist in Boston.
For more news, follow Medscape on Facebook, Twitter, Instagram, and YouTube.
Source: Read Full Article