Record $125 Million Gift to Train More NPs for the Underserved
A record $125 million gift from a billionaire cosmetics heir to a Pennsylvania nursing school offers one step toward solving the global shortage of primary care providers in underserved communities.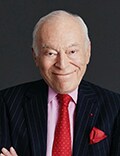 Leonard Lauder
The donation from Leonard A. Lauder to the University of Pennsylvania School of Nursing will allow the school to provide free tuition to train nurse practitioners (NPs) to work in community clinics across the country, where high-quality primary care services are lacking.
Antonia M. Villarruel, RN, should know. Now dean of the nursing school, her original career goal was to work in such a clinic. As a bilingual Mexican American, she said she felt a ​responsibility to help those in her community, but she couldn't have afforded to pay her nursing school ​loans if she went that route. "I'd be making less than I would be making as an RN," she told Medscape Medical News.
Still, she recognizes the skills of NPs, who will be able to work "independently and collaboratively with interdisciplinary teams" to provide primary care because of their ability to diagnose, prescribe, and treat patients. RNs can't write prescriptions, Villarruel explained.
Leonard Lauder, along with his younger brother Ronald, are heirs to the Estée Lauder cosmetics companies.
In terms of serving the marginalized, Villarruel said, "We have people who have it in their blood and don't have to be convinced." The scholarship will offer an Ivy League education at Penn to those who otherwise wouldn't think they could afford it, Villarruel added.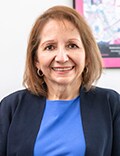 Antonia Villarruel, RN
Lauder, a graduate of Penn's Wharton School and a​n ​emeritus university trustee, explained the purpose of his gift in a statement on the nursing school's website. He said he offered the donation to NPs "out of a deep respect for what they do, based on firsthand experience. In a doctor's office, I am often first assessed by a nurse practitioner, who works alongside the doctor as part of an expert team."
He said the nursing school "could make a profound difference" educating NPs with clinical training in local communities. "I want dedicated, talented people who are just starting out, or changing midcareer, or are nurses planning their futures, to be able to fulfill their professional ambitions — to ensure that others live healthier, better, and longer lives."
Lauder concluded, "This gift is a sign of my appreciation and support, and an acknowledgment of a fundamental reality: Nurse Practitioners are key to solving this country's acute shortage of quality healthcare. I hope that this gift will inspire others to step forward and dedicate their resources and support to the nursing profession."
In addition to the scholarships, the funds will be used to develop curriculum and community sites that will be engaged in clinical training to the NPs and provide alumni support to engage lifelong learning and teach others to work in these areas, according to Villarruel.
For more news, follow Medscape on Facebook, Twitter, Instagram, and YouTube.
Source: Read Full Article