Perth hospitals declare emergency mental health code yellow after 'ugly week'
Hospital emergency department staff are bracing for a tough weekend after a week that has already been described as "ugly" by a senior doctor.
Perth's mental health system was under such stress this week that a 'code yellow' was called, reflecting an internal emergency relating to overcrowding and the lack of mental health beds in the system to accept patients who had presented at an emergency department.
A code yellow for mental health beds is called when there are 15 patients waiting for secure mental health beds within the metropolitan public health system.
Mental health patients who were not able to be moved to appropriate beds outside of the emergency department ended up spending long periods in emergency departments.
Australasian College of Emergency Medicine faculty chair David Mountain said: "it has been an ugly few days".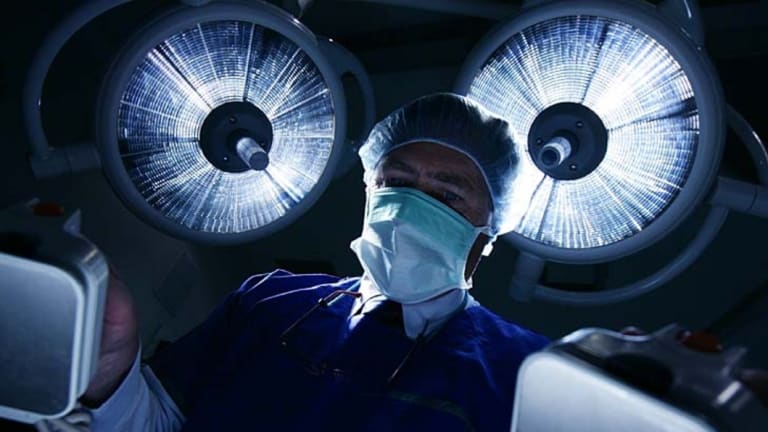 Perth hospitals declared a code yellow this week due to overcrowding of emergency departments.Credit:Nic Walker
"This is what happens when you run a system that never has enough capacity and you are getting people in EDs for far too long."
He said overcrowding was occurring on a daily basis. Code yellows were called on a "frighteningly regular basis".
In 2016-17 there were 31,414 emergency department mental health presentations across the state.
WAtoday understands this week one patient was stuck in an emergency department for 60 hours, restrained on their bed with nowhere to go.
Health Services Union WA secretary Dan Hill confirmed a security officer received serious facial injuries on Thursday when he was assaulted by a patient at an emergency department. The patient later allegedly launched a second assault on another security guard hours later.
Staff at one hospital ordered extra security officers to deal with the increasingly unsafe situation where mental health and toxicology patients were overcrowding the emergency department.
On Thursday night police delivered six mental health patients to one emergency department which was already in crisis and had already requested to go on bypass, sources said. Multiple patients had to be restrained to their beds.
Mr Hill said his security officer members were concerned about the levels of violence in hospital emergency departments.
He said there were not enough security officers employed at departments where violence had been an issue which created safety issues not only for the officers themselves, but others at the hospitals.
Officers were not always stationed inside an emergency department where their presence could act as a deterrent for bad behaviour, Mr Hill said.
"They're often down the hall," he said.
There were only four security officers posted per shift to the QE11 Medical Centre, Mr Hill said.
"We have called for a permanent presence in all EDs."
When he was in opposition the current WA Health Minister Roger Cook said high level of code yellows painted "a picture of a hospital system under significant resource stress".
And in 2014 another current Minister in the McGowan government, Stephen Dawson, revealed mental health authorities had declared an emergency after running out of beds. It was only the fourth time ever an emergency code yellow had been called in Perth.
On Friday Minister Cook said the government was taking action. A new Mental Health Patient Flow model was being constructed and due to be implemented early next year.
"The current hospital system in Western Australia has capacity for 795 mental health beds," the Minister said.
A security guard was injured in an emergency department on Thursday.Credit:File photo
"The number of beds has increased significantly in recent years from 725 in 2014-15.
"The McGowan Government understands the importance of moving people with mental health issues out of emergency departments which is why we have invested in a range of new services."
These included $28 million in capital funding and $36 million in operational funding for community mental health step up/step down services.
These residential facilities for sub-acute mental health patients offered help to transition patients out of hospital, or prevent them needing to go to hospital in the first place, Mr Cook said.
He said Mental Health Observation Areas were operating at Sir Charles Gairdner Hospital, Joondalup Hospital and soon to be established at Royal Perth Hospital.
A Health Department spokesman said health service providers were requested to instigate internal escalation strategies for mental health beds to develop capacity when a code yellow was called.
"The flow is managed by the Mental Health Assertive Patient Flow Team which operates across all mental health inpatient units to facilitate effective patient flow and attempt to alleviate demand pressures in emergency departments and community services," he said.
Earlier this month the Australian Medical Association WA's president Omar Khorshid warned emergency departments were used by mental health patients when they could not find help elsewhere.
"In our system, patients can be stuck in ED for up to four days. This unacceptable situation sounds the alarm that the WA mental health system is not working," Dr Khorshid said.
"Clinicians working in hospitals and community services can't understand the system. They describe inordinate levels of bureaucracy, endless rules, paperwork and delays. Committed staff are trying their best, but are left demoralised and burnt out."
Mr Cook said mental health was a growing problem and the McGowan Government was spending more on mental health than ever before, more than $900 million a year.
Source: Read Full Article