How do I get a coronavirus test?
An increase in demand for coronavirus tests has led to local shortages – with some people being directed to test sites hundreds of miles from their homes.
The government has defended its record on testing, but conceded that problems with the system are likely to continue.
Should I get tested?
Testing people and then tracing the contacts of those infected is considered vital to stop the disease from spreading.
You should seek a test if you show one of these three key symptoms:
a fever
a new continuous cough
a loss of smell or taste
The idea of testing is to find people with the virus and keep them isolated to avoid it being spread through the wider community.
Until you can get a test it's important you and your household self-isolate.
What are coronavirus symptoms?
Remember the R number? Why is it so important?
How to get tested
Go online, or call 119, before going to a drive-through or walk-through testing site – or a mobile testing unit
Order a home testing kit in the first four days of having symptoms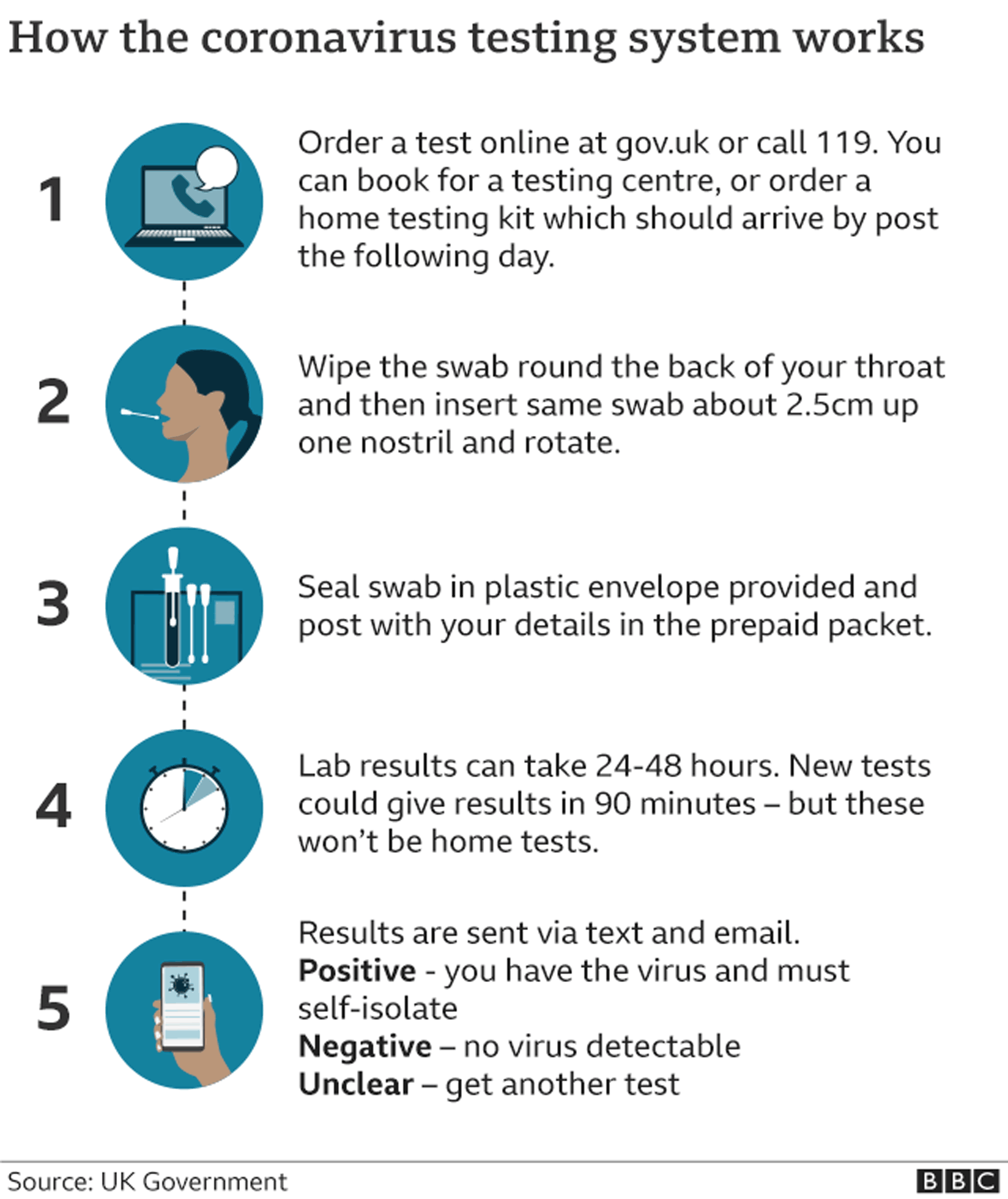 Government apologises over Covid tests shortage
What about the delays?
The testing system has been experiencing a number of well-publicised problems and many people have struggled to book.
This has been caused by an increase in demand for tests (although it's unclear by how much), possibly connected to people returning from holiday and the start of the new school term.
The Department of Health and Social Care has indicated lab capacity is the reason people have been unable to book tests in recent days.
What's causing this?
There have been claims that the government underestimated the rise in cases.
But Health Secretary Matt Hancock has also claimed that too many people without symptoms have been trying to get tested.
If you don't have symptoms, the government says you should not apply for a test – unless you are living in a local lockdown area.
Coronavirus testing: What's going wrong?
How many tests are being carried out?
About 220,000 individual tests are being processed each day. The UK government wants laboratory daily testing capacity to rise from 245,000 to 500,000 a day by 31 October.
It has pledged to bring in mass coronavirus testing by the end of the year, even among people with no symptoms.
The prime minister has spoken of his desire for 10 million Covid-19 tests a day by early 2021, but experts have expressed doubt that this is possible.
What about private testing?
People should only order an NHS test if they are showing coronavirus symptoms, work in certain high risk settings (such as care homes), or have been asked to by the authorities.
Private tests can be obtained from clinics and health centres, with some offering a result within three days.
Prices vary but are often around £100-£200 for a swab test – which shows if you are currently infected – and £50-£100 for an antibody test, which can indicate a past infection. However antibody tests do not work for everyone – and even some people who have had coronavirus do not have antibodies.
Tests must have a "CE mark" to show they meet all legal criteria.
If you test positive, the test supplier must let your local health authority know so it can trace outbreaks of the disease and learn more about its prevalence in the UK.
What kind of tests are available?
There are two types of tests.
The first checks if you are currently infected. A nose and throat swab is taken and then sent off to be processed at a lab.
New versions promising to deliver results in 90 minutes are being introduced in hospitals and care homes, where they can be processed using portable machines.
Tests on saliva are also being trialled,.
The second test involves blood samples and looks for antibodies which indicate past, rather than current, infection.
At the moment, these are mainly being used by scientists to estimate what percentage of the population has had Covid, rather than to diagnose individuals.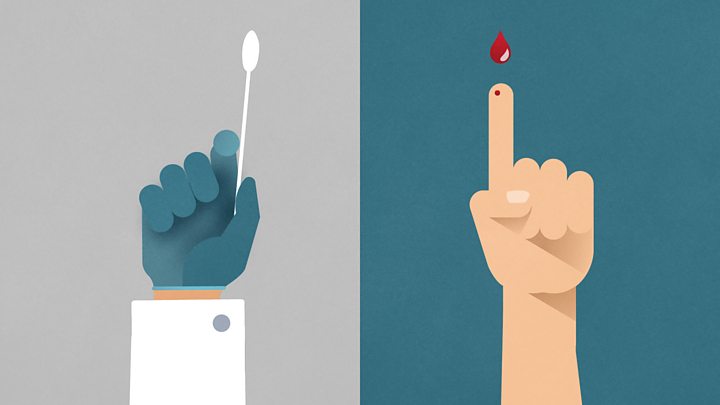 How reliable are tests?
With the most common type of diagnostic test, scientists at the University of Bristol believe 20% of positive cases could falsely appear as negative – wrongly telling someone they are not infected.
This can be because the swab sample wasn't good enough, there were problems in the lab, or because of the stage of infection the patient was at when tested.
How does the UK compare to other countries?
Each country records testing slightly differently, so like-for-like comparisons won't be 100% accurate.
However, analysis from Our World In Data, a research team based at the University of Oxford, suggests the UK is now performing more tests than many other countries.
For example, the seven-day average up until 10 September showed the UK had carried out 2.8 tests per 1,000 people. This was ahead of European countries including France (2.1) and Spain and Germany (both 1.8).
Follow Rachel on Twitter
What do I need to know about the coronavirus?
SOCIAL DISTANCING: What are the rules now?
SUPPORT BUBBLES: What are they and who can be in yours?
FACE MASKS: When do I need to wear one?
SCHOOLS: What will happen if children catch coronavirus?
LOOK-UP TOOL: How many cases in your area?
Department of Health & Social Care
Reality Check
Coronavirus pandemic
Coronavirus testing
Source: Read Full Article