Grieving Family Warns of COVID's Awful Toll During Pregnancy
Oct. 8, 2021 — If 22-month old Karter Bergeron wants to hear his mother's voice, he pushes a button on the paw of teddy bear that plays a recording.
"We found a video where she said, 'I love you,' says Amie Reaux, Karter's grandmother. "We put that in the bear. He holds his bear quite often."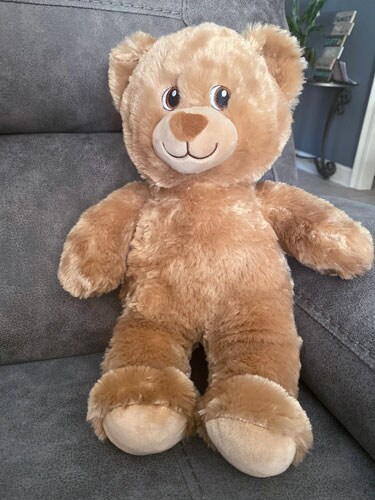 Keighlie Reaux's family was able to load a voice file of her saying, "I love you," into this interactive bear so her newborn son can hear her voice.
Karter last saw his mother, 24-year-old Keighlie Reaux, in late July, when she dropped him off with his grandmother in Youngsville, LA, for what was supposed to be an overnight stay.
Keighlie was almost 9 months pregnant with her second child. She told her mother she was feeling run down with a scratchy throat. She'd had recurrent strep infections during her pregnancy, and she assumed this was another.
Keighlie and her family had just returned from a beach vacation to Florida, which was in the midst of a COVID-19 surge caused by the Delta variant. Within days, they would all test positive. None of them had been vaccinated.
"It all went downhill from there," Amie says.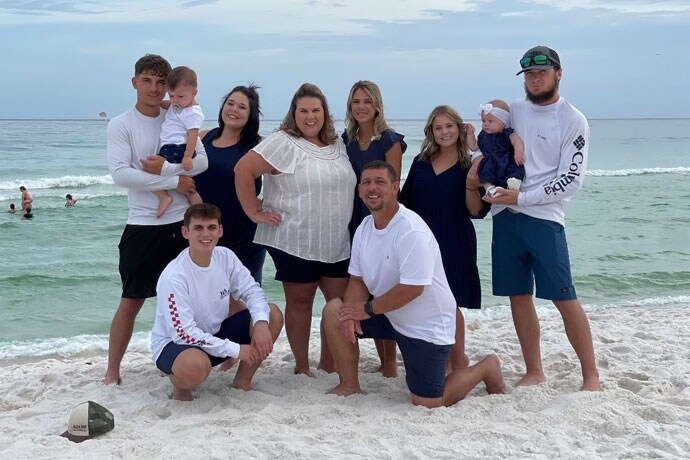 Photo of Keighlie with her family in Florida. She is third from the left. Shortly after they returned from the beach, they all got COVID.
Since the beginning of the pandemic, more than 127,000 pregnant women have caught COVID-19 in the United States; 22,000 have been hospitalized for their infections. More than 500 have needed intensive care, and 171 of them have died, making COVID-19 a leading cause of maternal mortality in the U.S. for the past 2 years.
The numbers are so alarming that they prompted the CDC last week to issue an emergency alert to doctors about the risk COVID-19 poses during pregnancy.
Maternal deaths are rare. Out of roughly 3.75 million births in the U.S. each year, about 700 women die during pregnancy or within 6 weeks of giving birth.
On average, the U.S. sees about 55 maternal deaths a month. In August of 2021, 22 pregnant people died of COVID-19, the highest toll of any single month during the pandemic.
Southern states have been hit particularly hard. During a single week, four mothers died at the University of Mississippi Medical Center where maternal-fetal medicine specialist Michelle Owens, MD, practices. None were vaccinated.
"We've got babies in our NICU who will not know their moms, and that is really demoralizing," says Owens, who noted that maternal deaths are searing for both health care workers and families who experience them.
"It's hard on these families who lose the matriarch, who lose the center of their homes. These are younger women. So many of them have other children," she says.
Maternal Mortality Climbs During COVID-19
There's not an official estimate of the maternal mortality rate in the U.S. during the pandemic. It normally takes time for state maternal mortality committees to investigate their cases to decide if deaths around pregnancy were related to carrying a child or not.
The latest official figure is from 2019. The CDC has calculated the U.S. maternal mortality rate — the number of deaths for every 100,000 births — to be 20.1, or 0.02%, a figure that already ranked the country last among wealthy nations for maternal deaths.
Early research indicates that COVID-19 has caused that number to soar.
Torri Metz, MD, an associate professor of obstetrics and gynecology at the University of Utah, led a team of researchers that documented the harms to mothers and infants during the first 5 months of the pandemic.
Their study included 1219 pregnant patients who tested positive for the coronavirus treated at 33 hospitals in 14 states. They documented four maternal deaths from COVID-19, giving them a rate of 0.3% — a figure that's 15 times higher than in 2019.
"The fact that it's an order of magnitude higher is, I think, the really concerning part," Metz says. Her study was published in April 2021 in the journal Obstetrics & Gynecology. And those numbers were well before the Delta variant became the dominant cause of infections.
"Definitely what we're seeing now with the Delta variant is a lot more severe infections in pregnant people, and that's obviously very concerning as well," Metz says.
At Parkland Hospital in Dallas, one of the nation's busiest for deliveries, the number of pregnant patients who needed hospital care for severe or critical illness roughly tripled during the Delta wave.
In 2020, about 5% of COVID-positive pregnancies required critical care. By July and August of 2021, that number had increased to between 15% to 25% of COVID-positive pregnancies, says Emily Adhikari, MD, medical director of perinatal infectious diseases at Parkland. Her findings are detailed in a research letter in the American Journal of Obstetrics & Gynecology.
Lack of Data and Disinformation Cause Vaccinations to Lag
Nearly all pregnant patients who are experiencing these life-threatening complications — 97%, according to data collected by the CDC — are unvaccinated.
Keighlie Reaux didn't want the vaccine, her mom says. She felt like there wasn't enough information about it, and she didn't discuss it with her doctor.
"You know, she was just scared," Amie Reaux says, "And at the time, I don't think they were offering it to pregnant women."
The CDC has always identified pregnancy as a condition that places people at higher risk for severe outcomes from COVID-19. But people who were pregnant were excluded from the vaccine trials, so when the first shots were rolled out, the CDC had to acknowledge there was little data to guide decisions about vaccinations during pregnancy.
The agency said the vaccines shouldn't be withheld from pregnant women who wanted them, and said those decisions needed to be made by women individually in consultation with their doctors.
"I think that's where we, you know, really fell down," Metz says. "We just had no data in pregnancy. So I think it was very hard for patients and also, you know, health care practitioners to feel 100% comfortable getting the vaccine in pregnancy."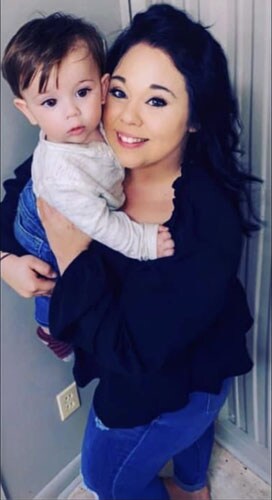 Keighlie Reaux, who was 24, and her 22-month-old son Karter.
Keighlie Reaux announced her pregnancy in January, during this period of uncertainty. The evidence has since become clear that the vaccines are safe and effective during pregnancy.
But many people, like Keighlie, never reevaluated their decisions, even as it became clear that the vaccines were indeed safe and beneficial during pregnancy and the dangers of the Delta variant became evident.
According to the CDC, people who are pregnant and develop symptoms with COVID-19 have more than twice the risk of needing intensive care, invasive ventilation, or treatment with a heart and lung machine called ECMO and a 70% increased risk of death compared to people with symptomatic COVID-19 who aren't pregnant.
Despite these risks, the CDC says that as of Sept. 18, just 31% of pregnant patients have been fully vaccinated.
"Delta has definitely taken an emotional toll that is unlike anything I have seen in my medical career," Owens, the maternal specialist in Mississippi, says. "Sometimes we just get together with a big box of tissues and cry."
Obstetricians across the U.S. say they are reeling from the death toll.
"It's just becoming so incredibly heartbreaking, and it's hard to make people understand how not normal this is," says Danielle Jones, MD, an OB/GYN in Austin, TX. Jones has been collecting emails from colleagues about their cases and sharing them anonymously on Twitter.
In the U.S., maternal mortality has been a subject of intense media coverage, Jones says.
"And I have mixed feelings about that because although it is extremely important, and something we need to work on from multiple angles, I think it has numbed the public a little to this topic, and we've made it sound like maternal mortality is common," she says.
"When in reality, prior to the pandemic, I think most OB/GYNs would go their entire career and only have one, or maybe two, at the most," says Jones.
Now she says, many of her colleagues have seen those numbers just within the last year.
On top of the initial lack of data, much of the disinformation around the COVID-19 vaccines raised unfounded fears that they might harm fertility or lead to the death of the baby.
"The reason that is used as a source of disinformation is because it works. It causes people to be careful," Jones says. "Even though we've sufficiently proven that those claims are absolutely false, I understand why my patients feel a little bit fearful."
Retrospective reviews on tens of thousands of people who've been vaccinated against COVID-19 while pregnant found no reasons for concern. The CDC now unequivocally recommends vaccinations during pregnancy.
"I still am empathetic to these patients who just don't know what to think. There's even bad information coming from doctors and midwives who aren't staying up to date on the data," Jones says.
COVID Exploits Physiology of Pregnancy
Even in healthy people, pregnancy brings physical changes that may increase a person's vulnerability to COVID-19.
Those changes include decreased lung capacity, increased heart rate and oxygen consumption, and an increased risk of blood clots.
"It makes perfect sense to me that a virus that affects your respiratory system and also seems to be associated with [an increased risk of blood clots] — in the right individual — would lead to complications and increased morbidity and, unfortunately, mortality," says Mary Healy, MD, an associate professor of pediatrics and infectious diseases at Baylor College of Medicine and Texas Children's Hospital.
"The other factor that I think you have to build in is that we also know that COVID-19 causes increased problems in people with underlying health issues, and you know, we have a pregnant population that has those underlying health issues," says Healy, pointing to recent increases in conditions like obesity, diabetes, and chronic high blood pressure in women of childbearing age.
The immune system also becomes more tolerant of foreign invaders during pregnancy, so the body doesn't accidentally attack the growing baby. This, too, makes pregnant patients more vulnerable to infections such as flu and perhaps COVID-19.
The first sign that Keighlie Reaux was in trouble was diarrhea and vomiting so severe she couldn't even keep water down.
She gradually became so weak she couldn't walk. Her mother rushed her to the hospital. When they tested her blood oxygen, it was 73.
They couldn't detect they baby's heartbeat, so they performed an emergency C-section. Her second son, Krew, was delivered at 38 weeks and survived.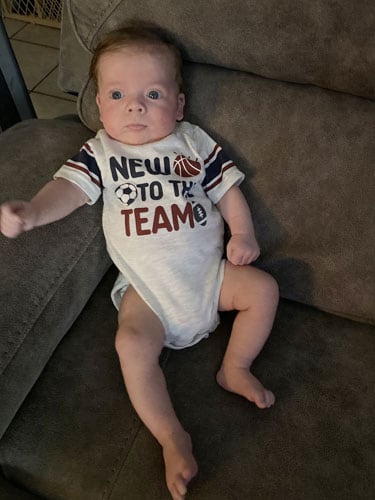 Baby Krew, Keighlie's second son.
"She really never got to hold him," says her mother, Amie. "I tried to place him in her arms right after she came back from her C-section, but she had wires and everything and she just didn't feel comfortable."
She delivered Krew on Aug. 4. She was transferred to a larger hospital where she could receive a higher level of care. She was intubated and placed on a ventilator on Aug. 9. Both of her lungs collapsed a few weeks later, and she died on Sept. 12.
Keighlie's mother and father are now caring for Krew and Karter. Friends are raising money to help the family on GoFundMe.
If she could do anything differently, Amie Reaux says, "I would definitely try to get them vaccinated."
Reaux says she would tell other pregnant women to avoid large crowds and wear masks and much as possible. "Be very cautious of your surroundings," she says. "You have to protect yourself."
And perhaps most importantly, make a plan.
"You need to make sure everything is planned out," Amie says, noting that doing even the simplest things for Krew, like getting him a birth certificate and getting him circumcised, has been a struggle. "There's a lot that needs to be discussed."
Follow me on Twitter: @ReporterGoodman.
Source: Read Full Article