Anti-abortion activists split on movement's next steps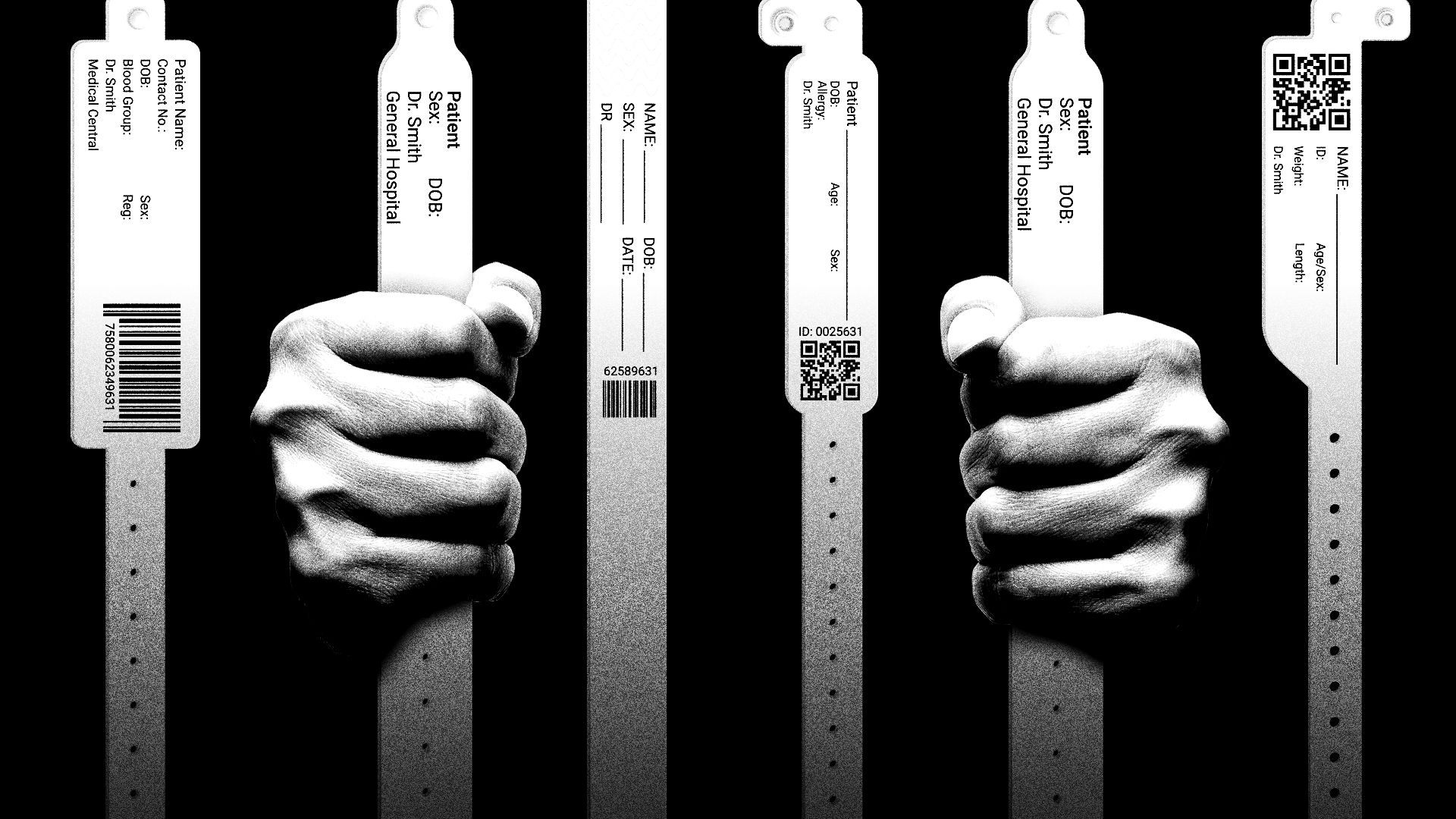 Illustration: Shoshana Gordon/Axios
As anti-abortion activists gather in Washington, D.C., on Friday to celebrate the overturning of Roe v. Wade — a singular cause that united abortion opponents for decades — some factions are split on the movement's next steps.
The big picture: While mainstream anti-abortion messaging still revolves around sanctioning doctors or clinics, a small but growing group of self-described abortion abolitionists are taking steps to single out and punish those seeking to end a pregnancy.
Major anti-abortion groups like Susan B. Anthony Pro-Life America, the National Right to Life Committee and the March for Life organization — which is organizing Friday's anti-abortion rally — have urged state lawmakers crafting anti-abortion bills to consider abortion patients as "victims" immune from prosecution.
But Abolish Human Abortion, one of the most high-profile abortion abolitionist groups, states that abortion "is an act of murder and should never be considered an acceptable solution for any difficult circumstance."
Between the lines: There are currently no laws in effect that allow a pregnant patient to be prosecuted. In fact, many state laws stipulate that only providers can be punished, through fines, jail time or loss of a medical license.
But as state legislatures start to convene their 2023 sessions, some lawmakers are embracing the idea that those who get an abortion when it is illegal should be punished or penalized.
In Oklahoma, state Sen. Warren Hamilton (R) introduced a bill that would modify the state's abortion ban, specifically getting rid of the law's clause that guarantees that pregnant people cannot be prosecuted.

If the bill is enacted, "it will allow for those accessing an abortion to potentially be prosecuted for that abortion," said Tamya Cox-Touré, executive director of the American Civil Liberties Union of Oklahoma.

In Missouri, state lawmakers are currently considering a bill that would define a fetus as a person and could allow prosecution of patients — unless a patient argues they have been "coerced" into getting an abortion.
A bill was introduced in Louisiana last year that would have allowed prosecutors to charge a person with homicide for getting an abortion.

The sponsor wound up pulling it from consideration after state lawmakers amended it to remove the language that would have enabled the prosecution, among other changes.

What they're saying: "Women should always be held harmless," said Marilyn Musgrave, vice president of government affairs at SBA Pro-Life America, which regularly works with lawmakers to draft abortion bills.

"The focus for prosecution" should be on those that provide abortions, not the patients, said Kristi Hamrick, chief media and policy strategist for Students for Life of America.

Moving to punish those who seek abortions where the procedure is illegal could also prove to be politically unpopular.

While most Americans remain in the middle of the debate — believing that abortion should be legal in some cases and illegal in others — the midterm elections brought wins for abortion rights even in red states.

But the debate over individual liability has intensified as more people access abortion pills through telehealth and mail.

Last week, the Alabama attorney general's office suggested to 1819 News that pregnant people who take abortion pills could be charged under a state chemical endangerment law that's been used to punish patients for consuming drugs during pregnancy.
Alabama Attorney General Steve Marshall later walked back the comments, saying only those who provide abortion pills should be punished.

Yes, but: There is a history of prosecuting people for getting an abortion, often under state laws that are not abortion-related, Elizabeth Nash, lead state policy analyst for the Guttmacher Institute, told Axios last year. However, many of these charges have not held up in court.

In 2022, prior to the Dobbs decision, a Texas woman was charged with murder for allegedly causing "the death of an individual by self-induced abortion." The charges were ultimately dropped, with a Texas district attorney that while the issue was "clearly contentious … it is not a criminal matter" under state law.
Purvi Patel was sentenced to 20 years in prison in Indiana in 2015 for "feticide" and "child neglect." Her conviction was overturned a year later. While prosecutors alleged that Patel had induced her abortion with pills ordered overseas, there was no sign of the pills in toxicology reports.

Abortion rights advocates say the debate over prosecuting individuals reveals the anti-abortion movement's actual goal, which is to ultimately punish those who seek abortions.

"I think they're just biding their time," said Jennifer Dalven, director of the Reproductive Freedom Project at the ACLU, in a press call.

Source: Read Full Article